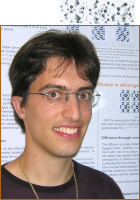 Damien Caliste
Online curriculum vitae
Doctor in physics - material sciences
Mail
Institut Nanosciences et Cryogénie
SP2M/L_Sim, CEA cedex 9, 38054 GRENOBLE, FRANCE
Tel.
(+33)06.63.61.73.38 (French mobile phone)
(+33)04.38.78.01.72 (French office phone)
E-mail
damien D caliste A cea D fr
www
CEA / DSM / DRFMC / SP2M / L_Sim
---
Current position
Permanent position in the L_Sim laboratory in Dr. F. Lançon's team.
Research interests
CV
University degrees
December 2005 PhD in physics, speciality in material sciences. Thesis directed by Dr. F. Lançon [Grenoble - France].
October 2002 engineer degree from l'École Centrale (one major scientific and technical French school) [Lyon - France].
September 2002 DEA degree (French equivalent to a master degree) in « condensed matter, surfaces and interfaces » [University of Lyon - France].
Vocational training
2004 scientific matter: DFT (Density Functional Theory) physic school (1 week).
2004 industry matter: patents technics (1 week).
2002 computing matter: Python language (1 week) and OpenMP programming (1 week).
Scientific communications
Papers
Communications
Oral presentation in Lyon (France) for the meeting of the high-performance computing group (in 2005): « A study of germanium diffusion in silicon : role of point defects ».
Poster presentation in the GdR-DFT 2005 (French working group on DFT).
Oral presentation in the GdR-DFT 2004: « Atomistic simulations in Si and SiGeC, coupling ab initio and Monte Carlo methods ».
Scientific programs
3D atomic visualization tool V_Sim.
Teaching experiences
Creation and teaching of practicals in physical simulations for students of master level, first year students (8h) et second year students (32h).
Teaching of practicals of point mechanism for first year university students (45h).